---
In 1837 Abraham Villines, and his wife, Martha, moved into the area from North Carolina. The river seemed to take hold of their family, and hasn't let go. Our daughter is now the 6th generation of our family to live on the same property we own today, and the 8th generation of Villines descendants who have proudly lived along the Buffalo River. 
---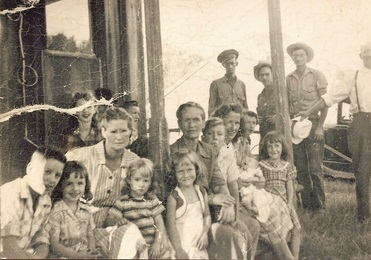 Records are hard to find and traveling conditions made record keeping difficult but here is what we do know. In what is now Newton County, the family established themselves on the Upper Buffalo River in 1837. Emigrants coming from Tennessee usually followed the southwest trail out of Missouri and into Arkansas. They followed a path crossing the White River and then found a recently cleared road to the little frontier settlement of Carrolton. From there, they crossed over the mountain to the headwaters of the Buffalo River. There were no roads in this area at the time, only well-worn trails that had been formed from centuries of use by grazing animals and the Indians that hunted them. The trail then entered the valley where Whiteley Creek joins the Buffalo River. It was near here that two families in the Villines' Caravan established homes. Abraham continued down river and settled under the big bluff near what later became known as Center Point where he spent the rest of his life. His children married and established homes nearby. Abraham's granddaughter, Susan, recorded that Abraham at a very old age had been killed with a bayonet by bushwhackers. Women buried him by the trail where he was killed. His wife, Martha, died in 1862 and is buried at Beechwood Cemetery.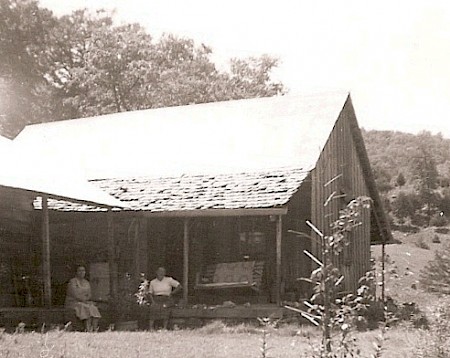 Second only to their loyalty & faithfulness to God, nothing was more important than family. Love for one another held this family together through some very hard times. My great grandparents attended the little church in Low Gap, and my family still attends that church today. My mom has told me many times that she never wondered what she would be doing on Sundays- always Sunday school and church with her family.
Another large part of our lives is hunting, fishing, trapping and gardening. My ancestors were completely self-sufficient. They lived entirely off the land, even making their own molasses and maple syrup. They scraped by, but they didn't feel like they were missing out on anything. Their needs were met, and they had family and friends. Electricity and indoor plumbing were slow in coming and considered frivolous. Life along the Buffalo River was often difficult. The rugged terrain and wilderness made everyday chores hard and the Buffalo River's surrounding areas didn't progress at the same rate as other cities at the time. The people who lived here worked their fingers to the bone to survive and provide a decent way of life for their families. But through it all, time was taken to enjoy one another's company and friends.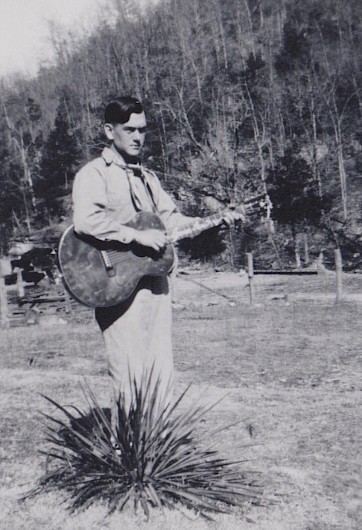 Music was engrained in the family as well. Every member of my mom's family could play some type of instrument. Everyone who knew my grandpa Boyd knows he could play anything with strings on it. No one in the family could read music, however, it was all by "ear". Bluegrass and gospel are the two dominant types of music here.
So now I should to let you know, I am a photo junkie. I love old photographs of my family and anyone else who catches my attention. Check out our Flickr page to view a few family photos that I love. Thanks for stopping by.